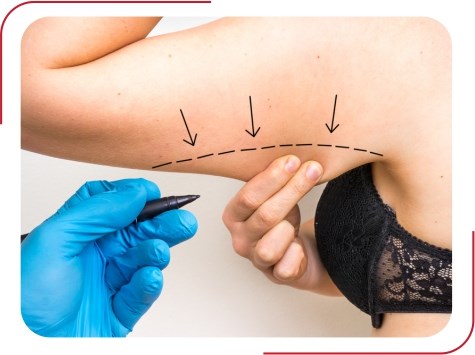 Arm Reduction - Brachioplasty
Are you worried about the sagging skin of arm?
Are looking for arm slimming or arm reduction after gaining some extra kg on arm?
Are  you looking for plastic surgery of upper arm?
Do you want arm flab removal or fat reduction?
Arm lift surgery or Brachioplasty surgery is the right answer for all these queries. This surgery will get you rid off sagging skin and arm reduction. This surgery also help you for arm reduction. You achieve toned, nicely shaped contoured arm
Why might I need a brachioplasty?
This surgery may be for you if you recently lost a lot of weight. It's often done on people after they have had weight-loss surgery. You may not be happy with how you look after weight-loss surgery if you have extra folds of tissue under your arm.
These extra skin folds may cause the following problems:
General discomfort.
Inflammation and rash. This can lead to an infection.
Problems with hygiene in this area.
Poor self-esteem.
BODY MASS INDEX CALCULATOR
Schedule your appointment
Frequently asked questions