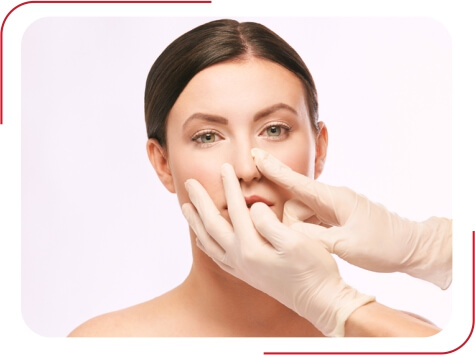 Rhinoplasty Surgery | Nose Job Surgery | Nose Re-Shaping
The nose is the feature of the face that defines it the most, and even a small change in its size or shape can significantly affect a person's appearance. Cosmetic rhinoplasty aims to make the nose more aesthetically pleasing and harmonious with the rest of the face.
Additionally, rhinoplasty can help remodel the inside of the nose to improve breathing. The surgical operation known as a "nose job," "nose reshaping," or "nasal surgery" is known by the medical term rhinoplasty. To improve the nose's look or functionality, the bone and cartilage must be surgically rebuilt and shaped.
Cosmetic rhinoplasty surgery can give you a natural looking nose and boosts your confidence if you answer YES to any of the below questions.
Do you not like the way your nose is shaped?
Do you think your nose is too big for your face?
Do you have a deviated Nose?
Do you have a crooked nose?
Do you experience breathing problems?
due to the form of your nose, has your self-confidence decreased?
You yearn for a pointed, alluring nose.
If the aforementioned issues are of concern to you, rhinoplasty surgery or a nose job, either with or without septoplasty (septum surgery), is the best course of action for you.
Schedule your appointment
Frequently asked questions