Cheek Augmentation
Get firmer and tighter cheeks at the most affordable cost
Temporary Soft Tissue Fillers
Liquid or gel-based fillers are injected into the cheeks in place of silicon. Among other popular filler brands are Juvederm Voluma, Sculptra, and Radiesse.
They are often made of harmless, naturally occurring materials like calcium hydroxylapatite or hyaluronic acid, which are found in the body. Fillers typically last for 12 to 18 months before needing to be refilled. The process takes very little time like a lunchtime procedure, and you can return to work with no downtime.
This is a safer and longer-lasting solution. The cheeks receive an injection of fat that has been removed / harvested from another area of the body. The fact that the fat comes from your own body makes it more likely to be approved. The fat also helps to tone and improve the texture of your skin. Once more, this is a daycare procedure
Cheek Reduction (Buccal Fat Removal)
Cheek accentuates beauty to which person triumphantly drag themselves demanding facial aesthetics."
You are in adulthood and worried about chubby cheeks?

Are you feeling uncomfortable while dressing up in western clothes because you look older than your actual age?

Are you hesitating in participating event?
Do you want to improve your facial appearance?

Do you want to have a sculpted and youthful look?
Everyone wants to have a V-line face shape as it defines the photogenic character of a face. To receive the V-line face shape, your cheek must be free from fats and so buccal fat is not there that contributes a key role in defining the sculpted and youthful look.
However, it has significant value if you are blessed with a good facial feature, but if you don't have the same can go for cheek reduction surgery or a buccal fat removal procedure.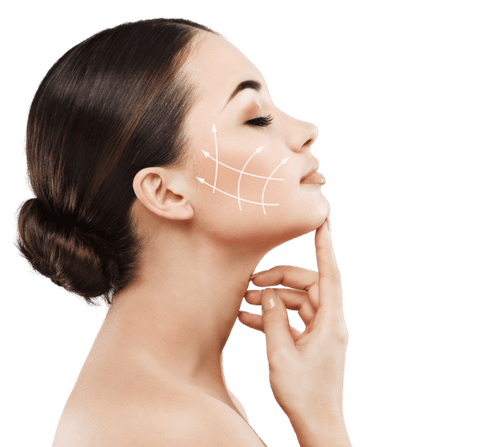 What is Cheek Reduction Surgery?
By enhancing the V-line face shape, cheek fat removal surgery plays a significant role in enhancing facial features. Buccal fat removal surgery highlights facial features and reduces lower cheek fat, which typically distorts the V-line face form by making the midface broader.
Cheek reduction surgery helps to define the cheekbone and provides the face with a chiseled appearance. Because each person's buccal fat pad varies in size, the excision of buccal fat is a highly customized surgery that addresses the patient's personal worry about having full cheeks.
Schedule your appointment
Frequently asked questions
If you are healthy and looking to improve definition in the mid face area or cheekbones, you may be a good candidate for cheek augmentation.
Our dedicated post-surgical section is designed with your comfort and care in mind. Our entire staff from the expert team of anesthesiologists to nurses, will ensure you are treated with utmost care and warmth
You should avoid strenuous activities for a week after surgery to decrease any swelling. Most patients return to work in 10 days to two weeks. Occasionally, some patients report that they can feel the endotines when they touch their cheek area. The endotines will gradually disappear, and will not be noticeable after a while.
Individuals should keep the head elevated as much as possible, and utilize cold compresses in regular intervals for several days. These measures will help minimize bruising and swelling. Occasionally, a partially numb sensation may linger in the upper lip, this resolves with time.
The natural aging process will continue, and the skin around the cheeks may begin to naturally slide again after several years, although individual experiences will vary. To help maintain the outcome, patients are encouraged to avoid smoking, excess sun exposure, and dramatic changes in weight. By following these suggestions, benefits almost always last 10 years or longer