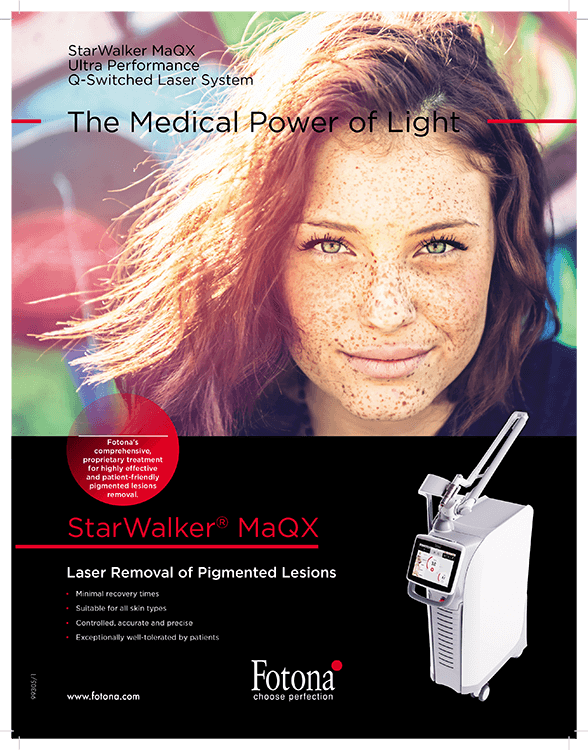 StarWalker® and its groundbreaking ASP (Adaptive Structured Pulse) technology represent a cosmic shift forward for the medical and aesthetic laser industry.
This third-generation technology combines the unsurpassed range of pulse duration modes of Fotona's VSP (Variable Square Pulse) technology with the revolutionary capability of ASP technology to adapt the temporal structure of laser pulses to the bio-photonic dynamics of laser-tissue interaction.
What Can Be Done with the Starwalker Laser?
Tattoo removal
All forms of pigmentation

Melasma​
Freckles
Sun spots (Solar lentigo)
Hori's naevus
Post-inflammatory hyperpigmentation

Acne and acne scars
Hair Removal
Triton
Fast & Effective Hair Removal
THE ULTIMATE SOLUTION TO GETTING
RID OF UNWANTED HAIR!
All hair removal concerns can be treated with
this innovative, effective and unique treatment:
• Light hair or skin
• Dark hair or skin
• Fine or coarse hair
• Medium complexion and thickness
• Stubborn hair
• Large body areas that require quick
treatment times
• Small sensitive areas
Achieve the smooth and soft skin that you've always wanted. Perfect for all areas of the body, head to toe!
Schedule your appointment
Frequently asked questions