Ear Reshaping (Otoplasty)
Otoplasty of the ears, commonly referred to as ear reduction surgery, ear pinning surgery or surgery to pin the ears back corrects protruding and abnormally positioned ears by moving them closer to the head and improving their contour by reshaping them.
A terrible cosmetic defect is protruding ears. Otoplasty is a basic, uncomplicated treatment that can restore the normal form, orientation, and configuration of the ears while also having a profoundly good impact on one's self-esteem.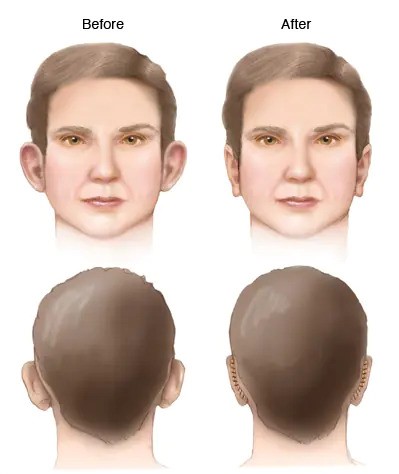 Otoplasty surgery
Why it's done ?
You might consider otoplasty if:
Your ear or ears protrude excessively from your head.
Your ears are too huge for your skull.
You're unhappy with a prior ear operation.
To maximise symmetry, otoplasty is often performed on both ears.
Your ears won't move or your hearing won't change as a result of otoplasty.
If splinting is done as soon as possible after birth, a kid who is born with prominent ears and certain other ear-shape concerns may have success with the procedure.
Othoplasty Surgery Procedure
The average time for an ear operation is two to three hours, while longer times are possible for difficult procedures. The approach will depend on the issue.
One of the more popular procedures involves the surgeon making a little incision at the back of the ear to reveal the ear cartilage. The cartilage will then be sculpted and bent back toward the head. To assist in keeping the new shape, permanent stitches may be utilised. Sometimes a larger amount of cartilage will be removed by the surgeon to create a more realistic-looking fold after the procedure.
Another method calls for a similar incision behind the ear. In order to restructure the ear without removing cartilage, skin is removed and sutures are utilized to fold the cartilage back on itself.
Schedule your appointment
Frequently asked questions